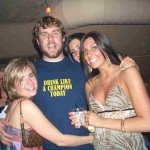 I was arrested for public intoxication when I was in college. I had drank an entire bottle of Southern Comfort and gotten into a fight. So as unjust as it seemed to be arrested a stone's throw away from my apartment, I deserved it.
Once I was in cuffs the officer found some contraband in one of my cargo pockets. My attempts to hide it in the cushions of a couch at the Richland County Detention Center were in vain. They took my belt and my shoe laces. Apparently a lot of people arrested for public intoxication were suicidal. Or I was deemed so dangerous, that I would have overpowered the guards if allowed the use of my belt.
I spent the night curled up on the cold concrete floor of the drunk tank, holding onto my baggy shorts for dear life.
When it came time to go to court I was confident I could talk my way out of the public intoxication charge. Since the ticket didn't include the aforementioned contraband, I wasn't concerned that it could be used against me.
I was wrong.
The arresting officer informed me that if I refused to take PTI (pretrial intervention), which consisted of a fine and community service, he was going to scrape the contraband and charge me with simple possession.
According to my limited knowledge of our criminal justice system, based on hours spent watching Law and Order reruns, this wasn't allowed.
"You can't do that." I waved my ticket in his face to reinforce my point.
"Watch me." I began to formulate a vehement, yet eloquent objection that Jack McCoy would have been proud of.
"Ok. I'll take the PTI." McCoy occasional took one on the chin. He would understand.
I should have told the judge that I didn't do anything wrong, explaining that I was guilty of being in the wrong place at the wrong time, and nothing else. My word would have been enough to persuade him to ignore the arresting officer and any eye witnesses.
After explaining that I was really, really, really sorry, that I allowed myself to be in this predicament, I would have been free to go.
Unfortunately I'm not Ben Roethlisburger.
Speaking of Roethlisburger, his Steelers host Ray Lewis (another fan of the "I didn't do anything…seriously…I didn't" defense) and the Ravens in the opening game of the Divisional Round of the playoffs this weekend.
BREAKDOWN:
Quarterbacks
Joe Flacco, despite bringing the Ravens to the playoffs in each of his first three seasons, relies heavily on his supporting cast. In last year's beat down of the Patriots in Foxboro, Flacco went 4-10 for 34 yards and an interception and his team still won by 19.
Last week Flacco showed flashes of brilliance against a Chief's team that packed it in early on. It should be tougher sledding against the Steelers, who allow less than 15 points a game, and held opponents to under 63 rushing yards per game. The secondary is the one potential weak spot to the Steelers D, and Flacco will need to be more effective throwing the ball downfield for his team to put points on the board.
On the other hand, Roethlisburger, an unproven deviant, is a proven winner. More importantly, he has shown he knows how to beat the Ravens. He is not a traditional drop back passer but he plays big in the biggest moments, and he is tough to bring down. With the exception of Troy Polamalu, no one is more important to the Steelers chances of advancing to the AFC Championship for the fifth time in the last ten years.
Edge: Steelers
Wide Receivers/Running Backs
Baltimore has surrounded Flacco with an explosive arsenal of offensive weapons. Ray Rice might not be effective running the ball against the Steelers, but he should be able to find space in the passing attack. If Baltimore can get the screen game going it will open up some space for Anquan Bolden and Derrick Mason. Todd Heap and TJ Houshmandzadeh are both reliable options as well.
Pittsburgh is not as deep at the skill positions. Rashard Mendenhall emerged as a top running back this year. However he faded a bit down the stretch and will have a hard time finding room to run against Baltimore. He is also not much of a threat coming out of the backfield, with only 23 catches on the year. Back up RB Isaac Redman could be a difference maker if the Pittsburgh needs a change of pace. Mike Wallace, the Steelers leading receiver with 60 catches, is lightening quick but with Hines Ward's production dropping off, he is going to draw a lot of attention from the Raven's secondary.
Edge: Ravens
Defense
The Steelers ranked number 2 in total defense and were first in points allowed. Pittsburgh had 48 sacks this year, 21 more than Baltimore.  The Ravens finished the season with the 10th overall defense and were 5th in points allowed.
These defenses are like twin brothers. They are built the same way. They both like to hit you in the mouth and create turnovers.
Both have great playmaking safeties. Ed Reed is a ball hawk, leading the league with 8 interceptions, while Polamalu, more effective in the box finished with 7. Neither is afraid of contact but Polamalu, the most disruptive force in football, is actively looking for it on every play.
Both feature scary line backing corps. They are freakish athletes who knock the snot out of you on one play, then make a one handed interception on the next. Pittsburgh's linebackers are a quieter bunch, going about their business in a workmanlike fashion and rarely making mistakes.  Baltimore, with Ray Lewis and Terrell Suggs leading the way, are walking sound bites.
Watching the Ravens D take apart the Chiefs was impressive. Scary impressive.
But that was Matt Cassell and the Chiefs. Going into Heinz field against a playoff tested quarterback is a horse of a different color.
Also, Baltimore has racked up 31 more penalties than the Steelers, never a good stat for a road team.
If it's the Ravens D on the road against the Ben Roethlisburger or the Steelers D in front of a fired up home crowd against Joe Flacco then…
Edge: Steelers
Corey's Half Assed Prediction: Baltimore jumps out early behind a couple of big plays to Bolden and Rice. Pittsburgh forces Flacco to make mistakes in the second half and comes back to tie the game late in the 4th quarter. In the end, the Steelers playoff pedigree is too much for the Ravens to overcome. Flacco will eventually learn to beat the Steelers, just not this year. STEELERS 26 RAVENS 23.